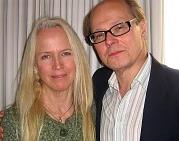 Peter and Lisa Mackeonis
M4M began with the London's iconic Shoreditch Art Wall (SAW), which is run by Peter and Lisa Mackeonis, from Santa Cruz, California, U.S.A, The idea came to us in 2012 when we read about, Lord Michael Bates' cause, "Walk for Peace,' during the 2012 Olympics. Lord Bates, a British member of the House of Lords, called for all warrring nations to lay down their arms during the Olympic Games, in suppport of the UN Resolution, signed but unanimously ignored by all 193 member states, and he walked the 3,000+ miles from Olympia in Greece to London, to draw attention to his cause.
When we heard of Lord Michael Bates' walk, we decided to support his cause by asking a few artists to paint a mural and dedicate it to him (see photo).
We were delighted when Lord Bates turned up, in the pouring rain, to remove the taupaulins covering the work - and Murals4Mankind was born.
Since then, we have hosted many causes on SAW, and our M4M project hopes to host many causes that benefit humankind past murals.