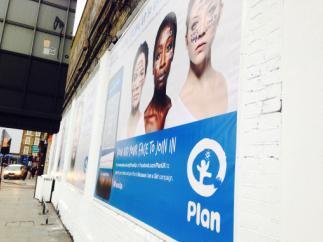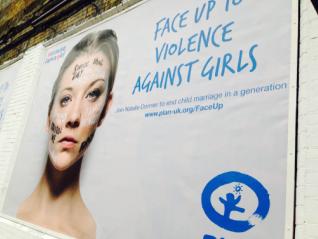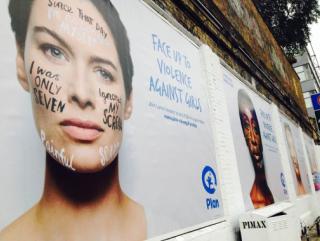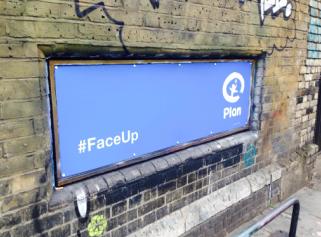 NEWS RELEASE
For Immediate Release
Shoreditch "faces up" to girls' rights
Shoreditch, London - October 8, 2014 - Campaigners tackling violence against girls took over Shoreditch Art Wall this week – urging passers-by to face up to the issue.
The outdoor East London gallery boasts the faces of three stars of screen and stage ahead of UN Day of the Girl on Friday (10th).
Game of Thrones actresses Lena Headey and Natalie Dormer join singer, songwriter and West End lead Beverley Knight in support of global children's charity Plan UK.
All three have had their faces adorned with the words of real girls who have experienced child marriage and female genital mutilation (FGM).
The words, including 'bear the scars,' 'violation' and 'no longer myself,' were painted on their faces by award-winning artist Marion Deuchars, a Plan supporter.
The new adverts, shot by renowned photographer John Davis, have been created for the charity's Because I am a Girl campaign - the world's biggest girls' rights campaign.
"It fills me with hope that someday soon girls can grow up on a world that is free from these harmful practices," says Lena who plays Cersei Lannister in Game of Thrones.
"I urge everyone – men, boys, women and girls – to join me in standing up for girls' rights' with Plan UK."
Co-star Natalie adds: "I believe we all have a part to play in the fight to end abuses like FGM and child marriage. It's a powerful stance that we're all taking, and by uniting together we can help keep millions of girls safe from harm."
The Because I am a Girl campaign aims to help millions girls in the world's poorest communities live free from violence, particularly child marriage and FGM – with 58 million already reached.
Another girl is forced to marry every two seconds, while 130 million girls and women are living with the consequences of FGM worldwide.
Plan UK ambassador and star of West End musical, Memphis, from October, Beverley Knight says: "Plan UK is working hard to end these harmful practices worldwide but the stories of these girls just aren't being heard. This campaign is vitally important."
Plan UK chief executive, Tanya Barron adds: "These practices are a violation of girls' rights and can cause severe physical and mental trauma."
"By putting the stories of real girls where they can't be ignored, we hope to build momentum, unite opinion and end FGM and child marriage in a generation.
"We're absolutely delighted that Lena, Natalie and Beverley are facing up to girls' rights and are on board to help us get this vital message across."
Plan UK has also launched a new online app so that supporters across the country can Face Up to violence against girls too, and join the Because I am a Girl campaign.
The Face Up app will enable supporters to have the words 'I'm putting girls' rights where they can't be ignored' digitally placed on a photo of their own faces for them to share on social media platforms using #FaceUp.
The app will be available on the Plan UK website and Facebook.
To join Plan UK's Because I am a Girl campaign, and Face Up to girls' rights, visit www.plan-uk.org/FaceUp or https://apps.facebook.com/planukfaceup
For more information on Plan's work or to make a donation call 0800 526 848 or visit www.plan-uk.org
-Ends-
Lisa Jones
Senior Media Officer
Plan UK | www.plan-uk.org
Direct line: 020 3217 0220 | Switchboard: 0300 777 9777 / +44 (0)20 7608 1311 (Non-UK) | Address: Finsgate 5-7 Cranwood Street, London EC1V 9LH
Notes to editors:
About Because I am a Girl
Plan are the experts on girls' rights and Because I am a Girl is our flagship campaign. We have already helped 58 million girls and by 2016, we aim to support hundreds of millions more so that they will be free from violence and can get the education, skills and support they need to become powerful forces for change in their communities
About Plan
1) Plan is a global children's charity. We work with children in the world's poorest countries to help them build a better future. A future you would want for all children, your family and friends. For 77 years we've been taking action and standing up for every child's right to fulfill their potential by:
• giving children a healthy start in life, including access to safe drinking water
• securing the education of girls and boys
• working with communities to prepare for and survive disasters
• inspiring children to take a lead in decisions that affect their lives
• enabling families to earn a living and plan for their children's future.
We do what's needed, where it's needed most. We do what you would do. With your support children, families and entire communities have the power to move themselves from a life of poverty to a future with opportunity.
2) Plan has been delivering programme work to end violence against girls, including child marriage and FGM in Asia and Africa for more than 20 years.
3) Plan UK is a member of The Disasters Emergency Committee (DEC), an umbrella organisation for 13 leading humanitarian aid agencies.
4) We work with children in 50 of the world's poorest countries to help them build a better future.
5) Plan was founded by British journalist John Langdon-Davies in 1937 to rescue orphans and other vulnerable children from the Spanish Civil War.
6) We have over 90,000 sponsors in the UK, generating £24 million a year, and 1 million sponsored children worldwide
7) Sponsorship starts at £15-a-month and, rather than going to individual children and their families, funds projects to improve schooling, health, nutrition and livelihoods across communities.
8) Plan's activities are guided by the principals of the United Nations Convention on the Rights of the Child and other internationally-recognised human rights treaties, and is informed by the local context and knowledge of the country and region.
9) The Face Up activity is part of a five-year Because I am a Girl campaign strategy to address the violations of girls' rights. Earlier this year, Plan UK released a video called FGM rose, which has been viewed more than 700,000 times online.
Andy Shipley
News Editor
Plan UK | www.plan-uk.org
Direct Line: 0203 217 0233 | Switchboard: 0300 777 9777 / +44 (0)20 7608 1311 (Non-UK) | Mobile: 07811 267113 | Skype: stokieplan | Address: Finsgate 5-7 Cranwood Street, London EC1V 9LH